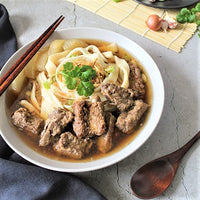 Taiwanese Deep Fried Pork Ribs Noodle Soup 台式排骨酥湯麵
特選排骨以獨家漢方與醬料醃製,脆嫩口感濃郁肉汁!
酥炸後丟入以大量洋蔥、白蘿蔔及新鮮蔬果熬燉多時之高湯悉燒,湯濃味鮮甜!
軟嫩排骨搭配鮮甜湯頭,滿滿古早香令人回味無窮~

Product Name:Deep Fried Pork Ribs Noodle Soup  
Weight:630g / Pack
Shelf Life:One year ( Frozen mode )
Best before:See package
Produced:UK
Ingredients:
Water, diced pork ribs (20.5%), radish, celery, soy sauce (water, sucrose, soybean, wheat, salt, alcohol, yeast extract), salt, wheaten flour (wheat flour, vitamin C), cornflour (typical values per), fried shallot (shallots, palm olein), sugar, garlic, chicken powder bouillon (lactose (milk), salt, flavour enhancers (E621, E631, E627), maltodextrin, mineral salt (potassium), chicken, modified corn starch, palm fat, sugar, yeast extract, chicken fat, flavourings (contain egg), chicken extract, potato starch, acid (lactic acid), antioxidant (extracts of rosemary), colour (E150c)). May contain gluten, celery and mustard, lard, sunflower oil, black vinegar ((sugar, salt, vegetable extract (carrot, onion, celery, tomato), orange Juice, spices (star anise, aniseed, cumin)), rice wine (water, rice, refined edible alcohol), white pepper, flavour enhancer (maltodextrin, salt, sucrose, yeast extract, hydrated soy protein, mushroom extract, cabbage extract), fermented tofu (soy bean, water, sugar, brown rice, salt, sweetener agents (E955) ,seasoning agents (E639, E330) ,tofu coagulant (E516) ,chili ,alcohol, beans quality improver  (hydrogenated palm fat,E322, E491, E551), sesame seed oil, spice powder (cassia bark, anise, fennel, chilli, orange peel ( contains sulphites)), black pepper, cinnamon powder.
May also contain trace amounts of the following allergens:
Celery, Crustaceans, Eggs, Fish, Milk, Mustard, Nuts, Peanuts, and Sesame.
Allergy advice:
For allergens including cereals containing gluten see ingredients list in bold.

Warning:
Store in the freezer at -18°c or cooler.
Do not refreeze defrosted product.
Once defrost, keep re-frigerated and consuming within 48 hours.
The heat resistant bag is designed to withstand heat up to 120° c and will be safe to boil together with water as the temperature of boiling water is 100°c.