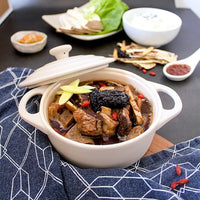 Mutton Hot Pot 紅燒羊肉爐(單人份)
以中藥材燉煮的帶皮羊肉,湯頭濃郁醇厚
中藥味淡而不膩,大鍋熬煮4至5個小時
讓整鍋湯汁充分吸收全羊及上等中藥之精華以及鮮味甘甜!

Product Name: Mutton Hot Pot 
Weight:450g / Pack
Shelf Life:1.5 year ( Frozen mode )
Best before:See package
Produced:UK
Ingredients:
Water, lamb (42.5%), soy sauce (water, sucrose, soybean, wheat, salt, alcohol, yeast extract), ginger, spicy soybean sauce (red chili pepper, soybean, water, broad bean, salt, liquid sugar, sesame oil, soybean oil, wheat flour, flavour enhancer: E631, E627, xanthan gum, star anise powder), fermented tofu (soy bean, water, sugar, brown rice, salt, sweetener agents (E955) ,seasoning agents (E639, E330) ,tofu coagulant (E516), chili ,alcohol, beans quality improver (hydrogenated palm fat,E322, E491, E551), sesame seed oil, black dates, rice wine (water, rice, refined edible alcohol), salt, sugar, dried mandarin orange peels (contains sulphites), astragalus root, angelica root, premium dark soy sauce (water, salt, colour (plain caramel), sugar, defatted soybeans, wheat), black cardamon, flavour enhancer (maltodextrin, salt, sucrose, yeast extract, hydrated soy protein, mushroom extract, cabbage extract), chicken powder bouillon (lactose (milk), salt, flavour enhancers (E621, E631, E627), maltodextrin, mineral salt (potassium), chicken, modified corn starch, palm fat, sugar, yeast extract, chicken fat, flavourings (contain egg), chicken extract, potato starch, acid (lactic acid), antioxidant (extracts of rosemary), colour (E150c)). May contain gluten, celery and mustard, licorice。
May also contain trace amounts of the following allergens:
Celery, Crustaceans, Eggs, Fish, Milk, Mustard, Nuts, Peanuts, and Sesame.
Warning:
Store in the freezer at -18°c or cooler.
Do not refreeze defrosted product.
Once defrost, keep re-frigerated and consuming within 48 hours.
The heat resistant bag is designed to withstand heat up to 120° c and will be safe to boil together with water as the temperature of boiling water is 100°c.